Yes I just met you and this

is

crazy, so if I'm wrong please

tell me

,

but if I'm not too far off, I think I'd like to work with you:

You're creative, even if you're sometimes unsure of yourself.

You have at least a vague vision for your site, but you're not totally sure where to take it.

I'll help you get there.


You know your way around the web, but you're curious about social media and SEO.

You've been meaning to dig in and learn a little, but ... yada, yada, yada. Life.

You don't mind getting dirty every so often. You are a do-er, when you want to be.

You'll put in a little effort to finally cross this one off your TO DO list.

You'd prefer not to spend a lot of money.

You've heard friends talk about how it can even be done for free (and wouldn't that be nice).
Personal Help Building Your Professional Brand. Name Your Own Price in the Gift Economy.
Powered by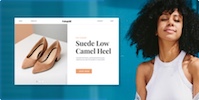 Create your own unique website with customizable templates.